While the internet can provide a huge source of inspiration for your special day, sometimes it makes all the difference to see it translated into real life. Welcome to the first of many posts on Ruby & the Swallow featuring real people and their real weddings.
Adriana and Jason performed a miracle wedding on a tight budget and much of it was done through their ingenious use of DIY and clever planning. Sit back and enjoy the special moments of this DIY filled day.
The Basics
Adriana and Jason wed on the 16th of May 2009 at Zebra Country Lodge in Pretoria. Their theme was red and black, with a touch of white, which juxtaposed well with the environment that their wedding was set in.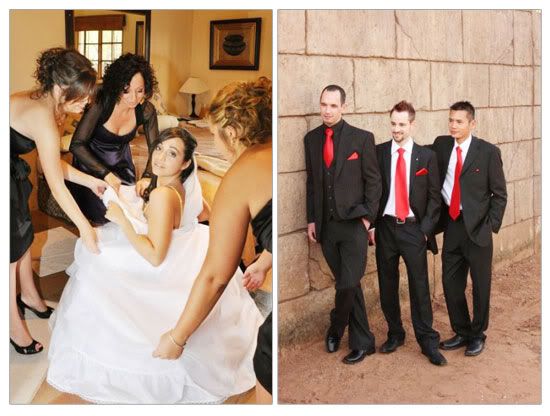 So what's your love story?
Jason and I met at a club, through a mutual friend named Matthew, who was one of Jason's best friends. I had known Matthew for about 3 years, but I had no idea Jason even existed and vice versa. I was dating someone else at the time but I thought Jason was cute and sweet. A month or so
later I broke up with the guy I was dating and the rest, as they say, is
history!
How did he propose?
It was on our 4 year anniversary weekend. He took me away for the weekend and on the very last night we were there, he proposed. I was half asleep, he nudged me awake and he was on his knees with candles lit in the room. It was funny because I'm known for being grumpy when my sleep is interrupted; but he had been so nervous to propose that weekend that he had to do it that night before we left for home.
What was the best lesson you learnt through planning your wedding?
Compromise, and that I'm lucky to have a very patient and understanding husband.
Any tips for brides to be?
Make sure you enjoy your wedding day, as it goes by very quickly. Don't forget to spend time with your closest friends and family, as they are the other most important part of your day.
How involved was your husband or family in the wedding planning?
Everyone was involved in making all the decisions.
What would you change about your wedding day if you could?
I would have spent more time with my parents and take the time to really thank them for all their help.
How did you decide on the colour or theme of your wedding?
We debated a few colours but finally agreed on red and black because it would work well with the venue and we both liked the colours.
Were there any elements of your wedding that you did yourself?
It was very DIY. With a lot of help, we did all the stationery, we handpicked the music playlist, we wrote the ceremony and our own vows and we made our own guest favours.
Did anything unexpected or extra special happen on your wedding day that surprised you and your husband? (Or just you!)
We had a bit of rain before the wedding while myself and the bridesmaids were having our make up done - I was disappointed, but it luckily cleared away pretty quickly. Also, a couple days before the wedding a mushroom heater fell on my husbands head, so he sported a burn mark on his forehead on the day!
What was your wedding song?
Gravity by a band called Embrace. Listen to it here.
I walked down the aisle to an orchestral version of Metallica's "Nothing Else Matters" - it was a tribute to my husband who is a rock 'n roller at heart. Listen to it here.
What was the flavour of your cake?
We actually had 60 cupcakes which surrounded a small round cake to cut into. The flavour was vanilla with a caramel filling. It was DELICIOUS!
Coordinator: Would I count as the coordinator? I planned it all myself!
Decor: Bride and family
Stationery: My sister designed them and then together with her and my other bridesmaid we hand cut and put them together
Dress (including bridesmaids dresses): My dress was bought at Bride and Co, Rivonia. The bridesmaids chose dresses that they could wear again, so we bought from Foschini
Hair: Elizabeth of JD Hair Studio, Robertsham,
(011) 433 4085
Make-up: My very talented friend
Catering: The venue did our catering
Cake: A family friend
We would love to see your wedding! If you would like to feature it on our blog, email us at rubyandtheswallow@gmail.com
Labels: 2012, adrianaandjason, Bride and Co, DIY, Love Story, Real Weddings, realweddings, Ruby and the Swallow, Wedding, Wedding stationery, weddings, weddingstationery, Zebra Country Lodge